Motorcycle Insurance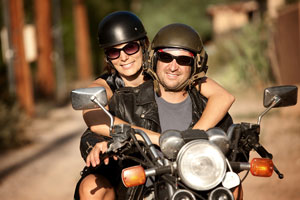 We have been providing bikers with the personal insurance coverage they need to protect themselves, their passengers, their motorcycle, and other drivers or pedestrians on the road for years now. There are a variety of factors which go into how much your premium will be, including: your age and gender, the kind of bike you have, your driving record, how frequently you ride, and your riding habits.
Our policies will grant the peace of mind you need while riding your motorcycle across town or across the entire country. You can rest easy knowing that your bike and anyone else riding the bike with you will be protected every mile of the way. We are focused on providing personalized coverage when it comes to all of our plans.
Reliable Coverage
Our insurance policies can include the following types of coverage plans:
Bodily Injury and Property Damage Liability
Comprehensive Coverage
Collision Coverage
Uninsured or Underinsured Motorist Coverage
Medical Payments
Roadside Assistance (dead battery, lockout, flat tire, mechanical breakdown, entrapment in mud or snow)
We understand that all of our motorcyclists do not have the same type of motorcycle, with the same sorts of parts, or with the same estimated replacement cost. Because of this, we will be sure to work on an individual basis to determine what coverage is best for you and your specific needs.
Fast and Easy Motorcycle Quote
Get a free motorcycle quote using our online form. Please feel free to contact us for more information about getting a policy.